The use of email in marketing is, to promote a company's products and services and to compel customer loyalty. Email marketing is a type of marketing that can inform customers on your email list about new products, discounts, and other services. It can also be a soft sell to educate your audience on the value of your brand or to keep them engaged in the interim between purchases. It could also be something in the middle.
Email Marketing is one of the most popular and effective tools for marketing campaigns when it comes to growing your brand or selling your products. In this article, we'll talk about what email marketing is, how using promotional emails can help you grow your business and some pointers on getting started with a successful email marketing campaign.
What Exactly is Email Marketing?
Email Marketing is the digital marketing practice of communicating with leads and customers via email. Email newsletters, promotional campaigns, and event announcements are all examples of email-based marketing messages. Email marketing typically has a much higher ROI than many other marketing channels (like social media).
Email Marketing strategies typically aim to achieve one or more of three primary goals: "loyalty, trust, and brand awareness."
The #1 thing that makes email marketing more effective than SEO and social media is that you have a direct line to your audience
History of Email Marketing
Ray Tomlinson, a computer engineer, sent the very first email in 1971. The message he sent was nothing more than a series of numbers and letters, but it signaled the start of a new era of communication. Tomlinson was also the pioneer of using the "@" symbol in email addresses.
Email marketing has evolved rapidly in tandem with the technological advancements of the twenty-first century. Before this expansion, when emails were new to most customers, email marketing was ineffective. Gary Thuerk of Digital Equipment Corporation(DEC) sent the first mass email to 400 potential clients via the Advanced Research Projects Agency Network (ARPANET) in 1978. He claimed that this resulted in $13 million in DEC product sales and emphasized the power of marketing via mass emails.
However, as email marketing became more popular as a direct communication tool in the 1990s, users began referring to it as "spam," and began filtering and blocking content from emails with filters and blocking programs. To effectively communicate a message via email, marketers needed to devise a method of getting content to the end user without being blocked by automatic filters and spam-filtering software.
Because target markets cannot be adequately defined, measuring the effectiveness of marketing campaigns has historically been difficult. Email marketing has the advantage of allowing marketers to identify ROI and measure and improve efficiency. Email marketing allows marketers to see real-time user feedback and track how effective their campaign is at achieving market penetration, revealing the scope of a communication channel. However, it also means that the more personal nature of certain advertising methods, such as television advertisements, cannot be captured.
Types of Email Marketing
Whether you're new to email marketing or you've been doing it for a while, you know that emails are one of the best ways to sell, and savvy marketers are always looking for new ways to build relationships and grow revenue.
Most Common Email Marketing Types
Welcome Emails
Email Newsletters
Standalone emails
Lead Nurturing Emails
Sponsorship Emails
Transactional Emails
Re-Engagement Emails
Brand Story Emails
Video Emails
Review Request Emails
How Can Email Marketing Fuel Your Overall Inbound Strategy
While email marketing is a top-performing digital marketing strategy, it is also relatively simple to implement and can be automated. This means that even a complete novice could obtain it, quickly learn the ropes, and succeed.
Email marketing, in particular, requires the following three components:
Build an Email List
To begin sending email marketing campaigns, you must first build an email list. Your email list is essentially a database of email addresses from people who have agreed to receive marketing messages from your company.
To ensure that your email marketing campaigns are successful, you must also ensure that your email list is active.
You can build your email list in a variety of ways. One of the most effective methods is to offer an incentive that your target audience will find appealing. In exchange, they will give you their email address. Lead magnets are these incentives, and they can range from coupons to ebooks and downloadable content.
Also read: What is SEO – Ultimate Guide for Beginners
Using Email Service Provider
A platform that allows you to manage your email list is known as an email service provider (ESP), also known as an email marketing service. Simultaneously, it enables you to segment your audience and craft highly personalized messages that will resonate with them.
Using an ESP allows you to create automated email marketing campaigns. You can automate which actions will take place based on your audience's behavior. Almost every interaction can thus be personalized, resulting in higher engagement and conversion rates.
Finally, modern ESPs can integrate with other marketing tools, such as CRMs and e-commerce platforms, allowing you to streamline your processes.
Have A Specific Goal
The final component is, of course, a well-defined business goal. Without it, you run the risk of sending marketing messages that your target audience will simply ignore. Email marketing, for example, can be used to:
generate new leads
increase brand awareness
drive more sales
increase engagement with the brand
build a trusting relationship with the audience
Before creating your email marketing campaigns, have a clear goal in mind to ensure you're on the right track.
Tips for Email Marketing that Will Boost your Results
Today's marketing arena is highly competitive and demanding, so marketers must devise the best strategies to survive. You can become a winning email marketing gladiator with a successful business by using email marketing.
The following are the top advantages of email marketing and why it is an essential component of any successful digital marketing strategy.
Better Conversion Rates
Aside from its broad reach, email is a conversion rate powerhouse. According to research, email converts 40x more leads into customers than Facebook and Twitter combined.
Furthermore, people regard email as a more trustworthy and professional channel. A single campaign can become a significant conversion force with the right elements, such as user reviews and testimonials.
Finally, keep in mind that email is trackable in terms of open rates, click-through rates, conversions, bounces, and other metrics.
To track your progress, you'll need a solid email marketing automation platform with advanced reporting tools.
Communication Channel
About 99% of consumers check their emails every day!
That is an unbelievably high percentage! Not to mention that 72% prefer to receive promotional content via email.
In addition, when compared to other channels such as social media or television advertisements, email is a much more professional way to receive information about products and services. Furthermore, through email marketing automation, technology has enabled email marketers to deliver more personalized content.
With this campaign, your audience will not only receive professional emails but also friendly and personalized messages that will entice them to click.
Extensive Audience Reach
An email has become deeply embedded in our daily online lives. Statista predicts that the total number of global email users will reach 4.48 billion by 2024!
This may appear astonishing, but it is easily justified when considering a customer's online journey. Almost everyone online has an email address for sending and receiving messages daily.
Accessing and reading emails is now easier than ever thanks to mobile email apps like Gmail.
Because email marketing has the greatest reach among known channels, it is the best channel for reaching leads and potential customers.
High Return on Investment (ROI)
Another reason email marketing is so effective is that it provides a high return on investment (ROI). It specifically offers an ROI of 4200%, which means that for every $1 spent, you will receive approximately $42 in return.
As a result, email is a low-cost online marketing channel for businesses of all sizes.
Email is the most important source of ROI for 59% of marketers. This is not surprising given that email sends relevant and personalized messages to the appropriate audience. And this is something that neither social media nor SEO can match.
List of Engaged Contacts
With emails, you own your list.
This is a significant advantage because you are not dependent on a third party and thus have no risk of losing such an important asset.
Each new subscriber is added to your email list, and you now have a direct line of communication with them.
This is not the case with social media platforms, where your account and valuable leads can be removed at any time, even without notice. This would impair your ability to reach and engage your intended audience.
So, creating and maintaining an email list is a significant investment that will benefit your business in the long run.
Lead Magnet
A lead magnet is a marketing term for a free item or service given away in exchange for contact information; examples of lead magnets include trial subscriptions, samples, white papers, e-newsletters, and free consultations. Lead magnets are used by marketers to generate sales leads. Marketers try to convert sales leads into paying customers for a product or service, or they may market unrelated products to the sales lead.
Here are a few types of lead magnets you could create:
Ebook
Whitepaper
How-to Guide
Infographic
Case studies
Checklist
Template
Webinar or Short Course
Tool
Email Marketing Software
Five of the top email service providers (ESPs).
There is no single "best email marketing provider" that is suitable for all. The "best" option is determined by the size of your list, your marketing goals, and the features that are important to you.
That is why I will not declare a winner here. Instead, I'll highlight the benefits, drawbacks, and applications of each email platform.
So, if you're looking for email marketing software, these reviews should assist you in selecting the best option for you.
MailChimp

MailChimp can be used to send simple newsletters. It could also be a complete marketing automation platform that uses behavior-based messages and cart abandonment emails.
It is one of the few platforms that allow you to keep things simple. However, if you want to delve into more complex topics, you can.
Pricing is free for the first 2,000 subscribers (with limited features). Their pro plans begin at $10 per month.
Constant Contact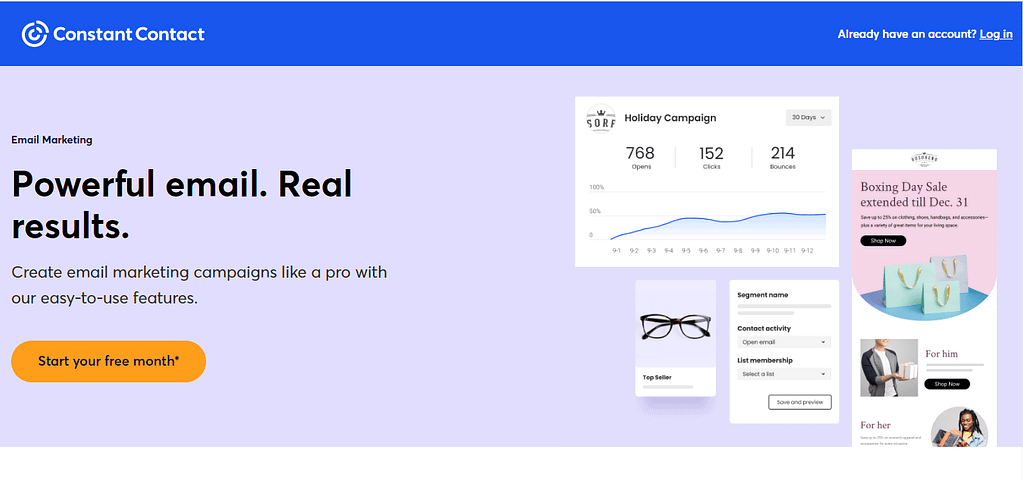 Constant Contact is geared toward the eCommerce market, with a focus on drag-and-drop design and eCommerce platform integration. However, many bloggers, nonprofits, and service businesses use it as well.
If you run an e-commerce site, you should give Constant Contact a try.
Plans range from $20 to $45 and up, depending on the number of subscribers.
ConvertKit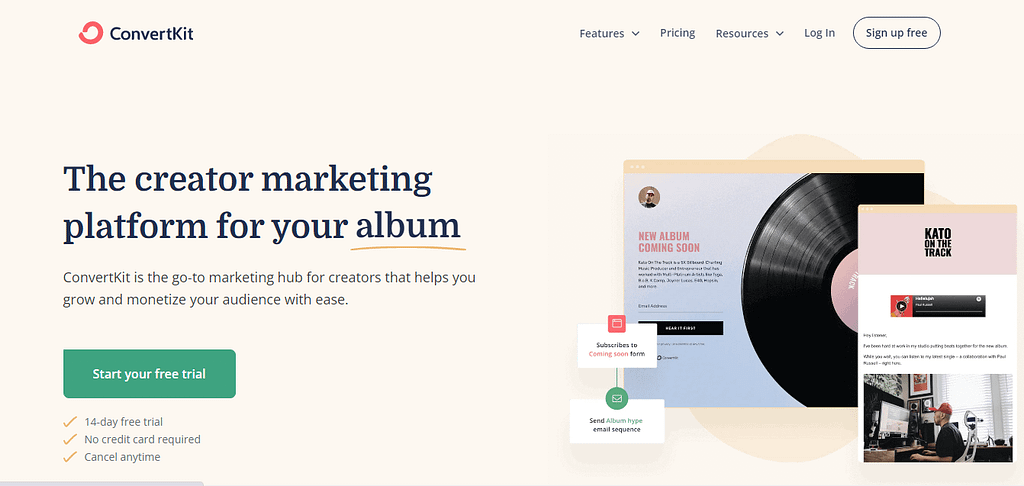 ConvertKit arose from nowhere to become one of the world's most popular email marketing platforms.
ConvertKit is unique in that all of its features are geared toward assisting "Online Creators."
(For example, bloggers, artists, and musicians.)
So, if you fall into that category, ConvertKit is a no-brainer.
Pricing is based on subscriber numbers, as with most ESPs. Pricing is free for the first 1,000 subscribers (with limited features). A full-fledged plan with 1,000 subscribers or less starts at $29. They also provide a 14-day free trial period.
GetResponse
GetResponse has all of the features that you would expect from an ESP (like autoresponders and marketing automation).
Plans also include email marketing tools to assist you in growing your list (like landing page software and popups).
Plans begin at $15 per month and have limited functionality. There's also a 30-day free trial.
Aweber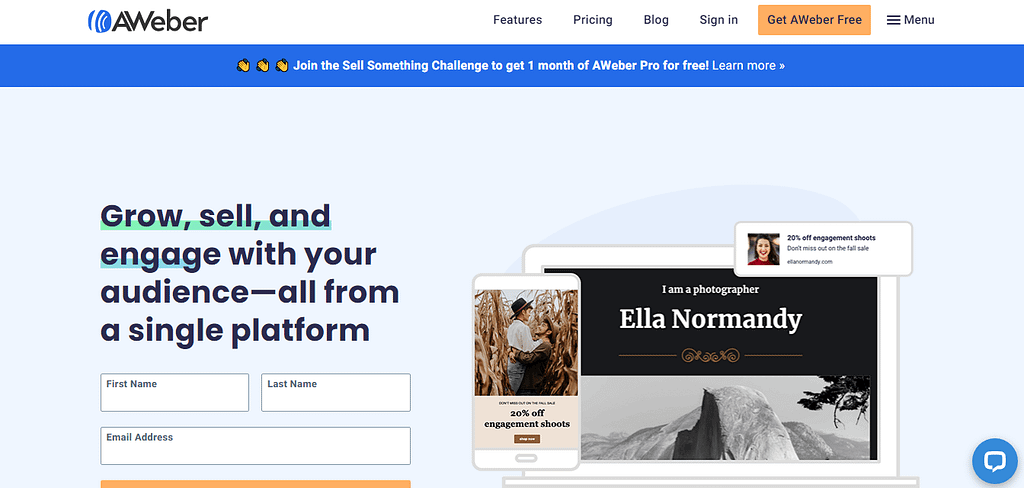 Aweber is the king of ease of use.
They do have some marketing automation tools. However, it is quite basic in comparison to most other ESPs. Furthermore, their reporting leaves a lot to be desired.
Aweber, on the other hand, is unrivaled in terms of simple and dependable software for sending newsletters and auto responder emails.
Paid plans begin at $19 per month. And, as long as your list has fewer than 25k subscribers, you can try out any plan for free for 30 days.