SEO stands for "Search Engine Optimization," In simpler terms, it refers to the process of optimizing your website in order to increase its visibility when people search for products or services related to your business on Google, Bing, and other search engines.
The higher the visibility of your pages in search results, the more likely you are to attract attention and attract new and existing customers to your business.  This includes creating high-quality content as well as monitoring your site's technical health, gaining links from other sites to your site, and maintaining your site's local search presence.
When most people think of "search engine optimization," they think of "Google SEO." As a result, we'll concentrate on optimizing your site for Google in this guide.
How Search Engine/Google works
Search engines are the digital version of libraries. Instead of copies of books, they keep copies of web pages.
When you enter a search query into a search engine, it searches through all of the pages in its index to return the most relevant results.
Search engines, such as Google, organize and rank content using relatively complex processes or algorithms. Algorithms use a variety of ranking factors to determine how well a page ranks.
Note: Google ranks web pages, not websites.
In a nutshell, search engines collect digital content and organize it into results pages. The ultimate goal is to make searchers happy with the results they find on search engine results pages (SERPs). The primary goal of an SEO strategy is typically to rank highly on Google.
To find and rank content, Google uses the following stages:
Crawling: Google uses "bots" to search the web for new or updated pages. A page must have links pointing to it in order for Google to find it. In general, the more links a page has, the easier it is for Google to find that page.
Indexing: Next, Google analyses the URLs discovered by the bots and attempts to understand what the page is about. Google will examine the content, images, and other media files. It then saves this data in its Google Index (or its database).
Ranking: The order in which the indexed results appear on the result page is referred to as ranking (SERP). The order of the list is from most relevant to least relevant.
How does SEO work
Crawlers, also known as bots or spiders, are used by search engines such as Google and Bing to gather information about all of the content available on the internet. The crawler begins with a known web page and follows internal links to pages within that site as well as external links to pages on other sites.
The content on those pages, as well as the context of the links it followed, help the crawler understand what each page is about and how it's connected to all of the other pages in the search engine's massive database, known as an index.
When a user types or speaks a query into the search box, the search engine employs sophisticated algorithms to generate what it believes to be the most accurate and useful set of results for that query. Organic results may include text-heavy web pages, news articles, images, videos, local business listings, and other more specialized types of content.
There are numerous factors that go into search engine algorithms, and those factors are constantly evolving to keep up with changing user behavior and advances in machine learning.
(For example, Google's algorithm includes over 200 ranking factors.)
Also read: What is Google Ads
Top Ranking Factors for Google
User-Friendly website
SSL Certificate (HTTPS)
High-quality relevant content
Domaine Age, Url, Authority
Mobile optimization / Mobile Friendliness
User Experience
Page load speed
Technical SEO
Internal / External links
High-Quality Backlinks
Schema Markup
Organic Search Results
Organic search results are the unpaid sections of the search engine results page that are determined by the relevance of the content to the keyword query rather than by Search Engine Marketing.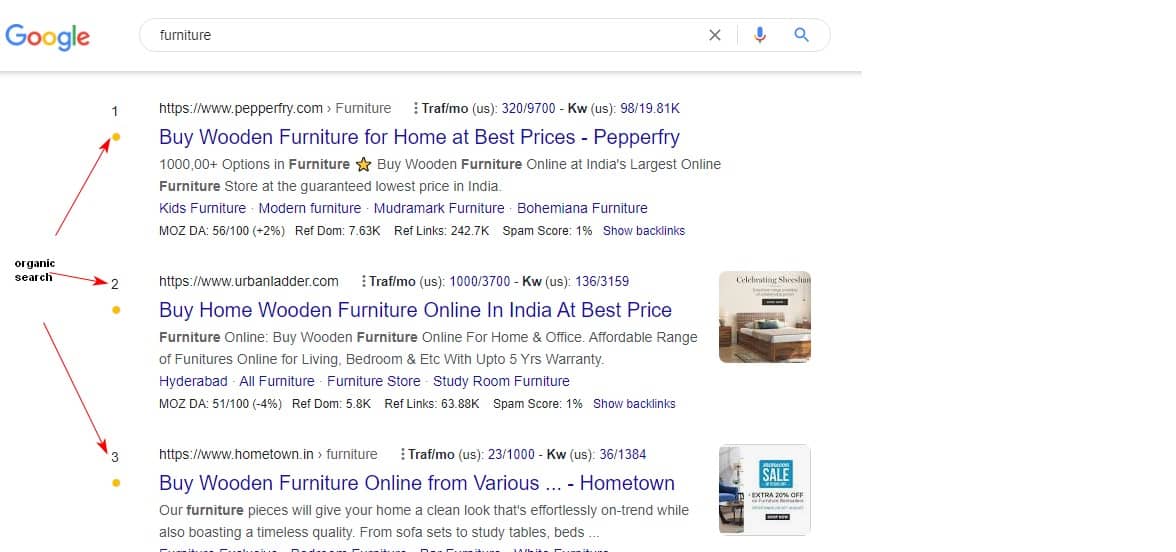 A website can benefit from organic search by submitting it to Google for indexing and then creating website pages based on specific keywords that the site is focusing on. Every month, the organic rank of a website is free. The main cost is the time and effort required to achieve that ranking.
Paid/Inorganic Search Result:
Paid searches are advertisements. Ads will be displayed near organic search results by search engines. This is the main way search engines make money. Advertisements are almost always displayed at the very top of a search result, or in a left/right sidebar.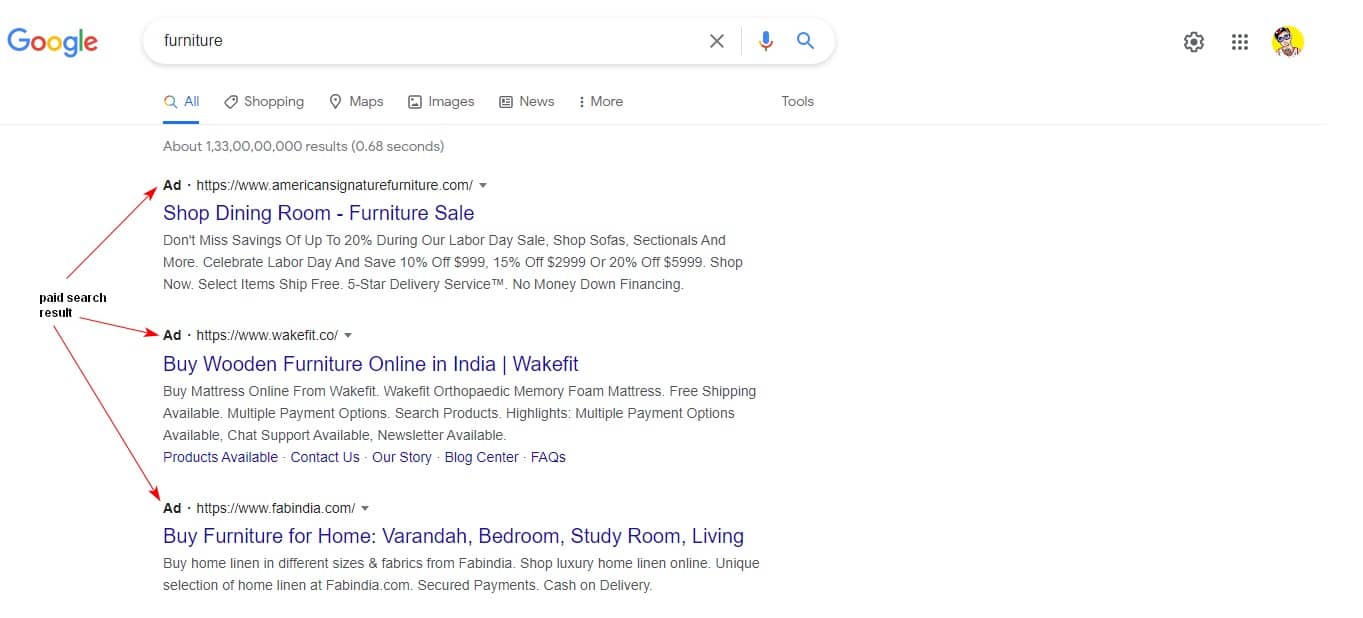 Paid search is based on a pay-per-click model. Paid search is a type of contextual advertising in which site owners pay a fee to have their site appear on top search engine results pages.
Keyword Research
Keyword research is the process of identifying all potential search queries that are relevant to your company and its customers. Keyword research entails locating, categorizing, and prioritizing keywords, which can then be used to inform your keyword strategy.
Excellent keyword research identifies the terms, phrases, questions, and answers that your users and customers care about. Your keywords should also help you achieve business objectives such as increasing page views, capturing leads, or selling products and services.
When done correctly, keyword research can assist in the creation of highly targeted content that engages readers and leads to more conversions.
Different Types of SEO
SEO, or Search Engine Optimization, refers to increasing the visibility of your website in Google search results for relevant keywords or search phrases. SEO aids in the natural generation of site traffic. When looking for a service or product online, consumers are more likely to choose one of the first ten results from a search engine. These ten results are preferred because they are well-written and SEO-optimized. There are approximately 12 different types of SEO that assist websites in ranking higher on search engine result pages.
There are a total of 12 types of SEO
White-Hat SEO
Black-Hat SEO
Gray-Hat SEO
On-Page SEO
Off-Page SEO
Technical SEO
International SEO
Local SEO
Ecommerce SEO
Content SEO
Mobile SEO
Negative SEO
What is Robots.txt File?
Robots.txt is a text file created by webmasters to instruct web robots/ search engine robots on how to crawl pages on their websites. The robots.txt file is part of the robots exclusion protocol (REP), a set of web standards that govern how robots crawl the web, access and index content, and serve it to users.
Robots.txt files specify whether specific user agents (web-crawling software) can or cannot crawl specific parts of a website. These crawl instructions specify whether to "allow" or "disallow" the behavior of specific (or all) user agents.
Basic format:
User-agent: [user-agent name]
Disallow: [URL string not to be crawled]
Example of Robots.txt
Robots.txt file URL: www.abc.com/robots.txt
Blocking all web crawlers
User-Agent: *
Disallow:  /
By using the above syntax in the robots.txt file, the web crawler will not crawl any pages on www.abc.com, including the Homepage
Allowing all web crawlers access to all content
User-Agent: *
Disallow:
By using the above syntax in the robots.txt file, the web crawler will crawl all the pages on www.abc.com, including the homepage
How does Robots.txt work
Search engines crawl sites by following links from one site to another, eventually crawling billions of links and websites. This crawling behavior is also referred to as "spidering."
The search crawler will look for a robots.txt file after arriving at a website but before spidering it. If it finds one, the crawler will read it before proceeding through the page. The information found in the robots.txt file will instruct further crawler action on this specific site because it contains information about how the search engine should crawl. If the robots.txt file contains no directives that prohibit a user-activity agent (or if the site lacks a robots.txt file), it will crawl other information on the site.
What are XML sitemaps?
An XML sitemap is a file that lists all of a website's important pages so that Google can find and crawl them all. It also aids search engines in understanding the structure of your website. You want Google to crawl all of your website's important pages.
 A sitemap can aid in content discovery. A good XML sitemap serves as a roadmap for your website, directing Google to all of its important pages. XML sitemaps can help with SEO by allowing Google to quickly find your important pages, even if your internal linking isn't perfect.
Canonicalization
A canonical tag (also known as "rel canonical") tells search engines that a specific URL represents the master copy of a page. Using the canonical tag prevents problems caused by identical or "duplicate" content appearing on multiple URLs. The canonical tag tells search engines which version of a URL you want to appear in search results.
Canonical tag are placed within <head> section of the web page
<link rel="canonical" href="https://abc.com/sample-page/" />
Here,
link rel="canonical": The link in this tag is the master (canonical) version of this page.
href="https://example.com/sample-page/": The canonical version can be found at this URL